blueyedog.com was launched 1996 and serves solely as a contact point for Jim Welch. Jim provides creative & new media consulting services for entertainment industry clientele. Featured clients on this site are Steve Miller Band, Journey, Neal Schon & PRG Nocturne Productions, Inc.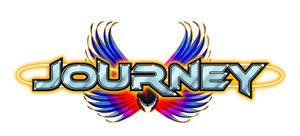 February 2013. I have created new logos for merchandising and advertising applications.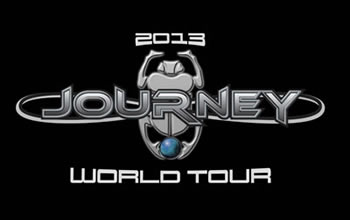 February 2013. I am also updating and redesigning tour merchandise for 2013. Above sample which to be embroidered on a black denim jacket.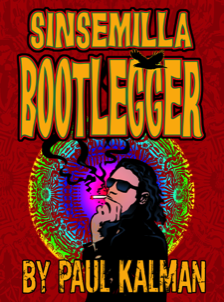 Oct-Dec 2012: Paul Kalman invited me to design the book cover for his novel Sinsemilla Bootlegger now in production for release in early 2013. Published by Council Oak Books.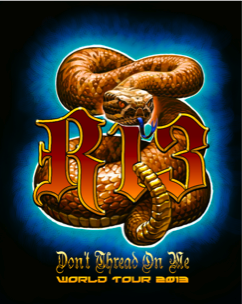 July 2012: New York City based R13 commissioned me to create a line of high fashion t-shirt art for the Spring and Summer New York and Paris fashion weeks with an "80's" edge. Example illustration below.
Larger version "Art Direction 2"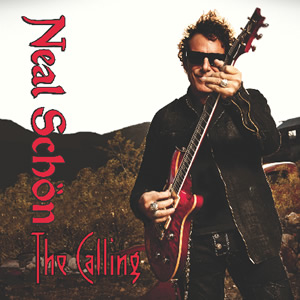 June 2012: Created Album cover for Neal's new The Calling CD release above. Preview here…
Click Here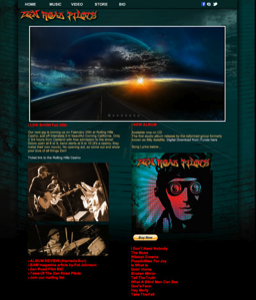 Feb 2012: In addition to creating CD package design, advertising posters and tour merchandise, we also created and launched the
new official website for Zen Road Pilots
. The new site makes use of spry accordion panels, video lightbox and JQuery sliders. The layout is easily viewed on iPhones and Android smart phones via browser.
Screen shot of front page below:
The Zen Road Pilots are a three-piece band in the classic tradition. They combine the psychedelic blues of the sixties with gorgeous melodies, and great songs with high-flying jams that inspire the mind and motivate the feet. Add two world-class singers, and you have yourself a huge sound in a very small package. The driving force behind this band is the rock-solid rhythm section, comprised of the intricate bass playing of Ira Walker and the relentless attack of drummer Tom "Fee" Falletti, who have a lock on the pocket. Soaring over this sturdy foundation are the high-flying guitars of Monty Byrom, who deftly combines ripping psychedelic guitar riffs with sweet, soulful melodies.

The members of the Pilots are three-quarters of the popular eighties rock band, Billy Satellite, which had a couple of hits on Capitol records with their songs, "Satisfy Me" and "I Wanna Go Back", for which they made videos that showed on MTV in its infancy. They did very well but got caught in a shake-up at the record company that prevented their follow-up effort from ever reaching the street. Flash forward twenty-five years to a benefit reunion concert that found the boys basking in the glory of days gone by and left them inspired to create new music together born out of brotherhood and bonded by time.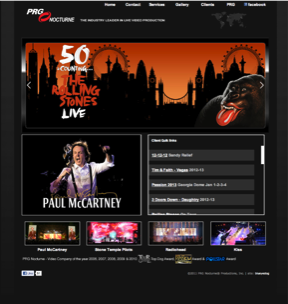 Premiere client: PRG Nocturne Productions. Created, launched and webmaster PRG Nocturne Productions website. Provide advertising creative for magazines and print media.
Nocturne was founded in 1980 by Journey's original Manager Herbie Herbert. Leveraging Journey as its first client, Nocturne pioneered and developed concert video production technology, services and innovation to the most leading edge and current state of the art.
website link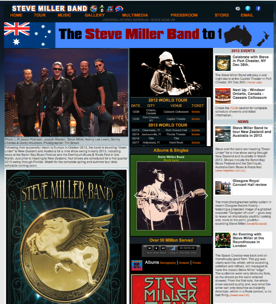 Premiere Client: The Steve Miller Band. In addition to supplying ongoing creative services for tour related activities, we also create and webmaster the Steve Miller Band official website.
website link
One of rock music's all-time greats, the Steve Miller Band has sold more than 30 million records in a career spanning more than 40 years. His trademark blues-rock sound made him one of the key artists in classic rock radio. The Steve Miller Band is brand name rock that millions have come to trust.
The announcement of the 2012 touring season by the Steve Miller Band follows three of the most busy, productive years in the long, illustrious career of Steve Miller, an artist at the peak of his powers, in demand around the world, whether as the headliner chosen to inaugurate the new $2.5 million TV home of "Austin City Limits" or collaborating with country superstar Kenny Chesney on the Country Music Television special, "Crossroads."

Some people call him the Space Cowboy. Some call him the Gangster of Love. Whatever you call him, Steve Miller is making the best music of his life and he is making lots of it.